Posts for: March, 2018
By Cole Family Dentistry
March 29, 2018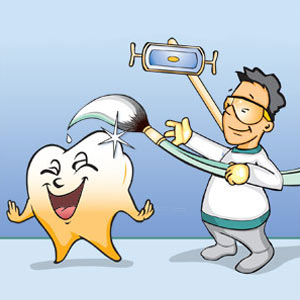 Home whitening kits are a popular way to turn a dull smile into a dazzling one. But these self-applied products only work for teeth with outer enamel stains — if the discoloration originates inside a tooth, you'll need professional treatment.
Known as "intrinsic staining," this type of discoloration most often occurs within a tooth's pulp or dentin layers. There are a number of causes like tooth trauma or tetracycline use at an early age. A root canal treatment used to remove infection from deep within a tooth can also cause discoloration: sometimes blood pigments left after tissue removal or the filling materials themselves can stain a tooth's interior.
Intrinsic staining can often be treated by placing a bleaching agent, usually sodium perborate, into the tooth's pulp chamber. But before undertaking this procedure on a tooth that's undergone a root canal treatment, we want to first ensure the filling is intact and still adequately sealing the tooth from infection. We also want to make sure the supporting bone is also healthy.
If all's well, we access the pulp in the same way as the root canal treatment, and preferably through the same access hole. We then clean out the pulp chamber of any stained matter and then ensure the root canals remain filled and sealed off from the pulp chamber.
We can then place the bleaching agent into the pulp, a process that will need to be repeated every three or four days to achieve the desired level of brightness. After each session we place a cotton pellet over the opening and held in place with a temporary adhesive; we can easily remove and re-apply this covering during subsequent sessions. Once we've achieved the desired color change, we seal the tooth with a permanent filling and restore the access cavity with a tooth-colored composite resin material bonded to the enamel and dentin.
There are other options for an intrinsically stained tooth like veneers or crowns that outwardly cover the discoloration. Internal bleaching, however, is a more conservative approach that causes less alteration of the tooth. If successful, it can restore a stained tooth to a brighter, more attractive shade.
If you would like more information on internal bleaching, please contact us or schedule an appointment for a consultation. You can also learn more about this topic by reading the Dear Doctor magazine article "Whitening Traumatized Teeth."
By Cole Family Dentistry
March 14, 2018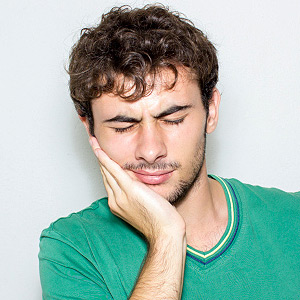 Accidents happen. And if an accident causes an injury to your jaws or surrounding facial area, it could result in serious damage. Without prompt treatment, that damage could be permanent.
You'll usually know, of course, if something is wrong from the extreme pain near or around a jaw joint that won't subside. If you have such symptoms, we need to see you as soon as possible to specifically diagnose the injury, which will in turn determine how we'll treat it.
This is important because there are a number of injury possibilities behind the pain. It could mean you've loosened or displaced one or more teeth. The joint and its connective muscle may also have been bruised resulting in swelling within the joint space or a dislocation of the condyle (the bone ball at the end of the jaw), either of which can be extremely painful.
These injuries also cause muscle spasms, the body's response for keeping the jaw from moving and incurring more damage (a natural splint, if you will). After examining to see that everything is functioning normally, we can usually treat it with mild to moderate anti-inflammatory drugs to reduce swelling and pain and muscle relaxers to ease the spasms. We may also need to gently manipulate and ease a dislocated jaw into its proper position.
In the worst case, though, you may actually have fractured the jaw bone. The most common break is known as a sub-condylar fracture that occurs just below the head of the joint with pain and discomfort usually more severe than what's experienced from tissue bruising or dislocation. As with other fractures, we'll need to reposition the broken bone and immobilize it until it's healed. This can be done by temporarily joining the upper and lower teeth together for several weeks to keep the jaw from moving, or with a surgical procedure for more severe breaks that stabilizes the jawbone independently.
It's important with any persistent jaw or mouth pain after an accident that you see us as soon as possible — you may have an injury that needs immediate attention for proper healing. At the very least, we can help alleviate the pain and discomfort until you're back to normal.
If you would like more information on treating jaw injuries, please contact us or schedule an appointment for a consultation. You can also learn more about this topic by reading the Dear Doctor magazine article "Jaw Pain — What's the Cause?"